skip navigation
WHAT WE DO
Total services for issuing, selling, using, and payment of Prepaid services
provide our customers and partners customized services for their needs
and purposes.
PREPAID TOTAL SERVICE
Our clients can experience Total Services of Issuance, Distribution, using,
or Prepayment. Alternatively, we can offer only specific types of services
if they needed.
Issuance

There are various ways of prepaid such as card type, mobile coupon, digita
code, etc.

Distribution/Top-up(charge)

Distributes Prepaid products through various networks including On-Line,
Off-Line, and Mobile.

Expands affiliated store/ Associate with other payment methods

Maximizes the opportunity for a new business and new customers through
collaboration with other payment method and affiliates.

Payment/Settlement

Provides statistical data on Issuance, Distribution(Top-up), and history of
Prepayment transaction so that our clients can come up with a creative
Marketing Strategy.
Customer Needs Analysis
We analyze customers' products, services, major business and the target
customers in order to derive most effective Pre-paid solutions.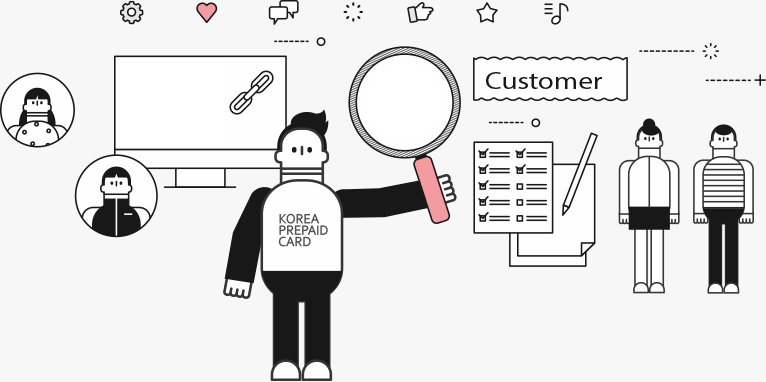 Proposal and execution of Tailored Prepaid Solution
We Propose and execute the most suitable Prepaid Type, Channeling, and
Action Plan for our customers.
CO-WORKING
We provide professional and skilled co-work in order to minimize Credit
Event.

BEYOND PREPAID
Prepaid Solution should be more than just a payment method.
What is More ?
· Combination of Mobile APP and Prepaid System
(Including management of membership & points)
· Micro Data from Prepaid Usages
· Customer Loyalty
· New Marketing Mix
· Expand Business Horizon
T-Grid is the Prepaid Total Solution that efficiently respond to corporate customers' various pre-paid
needs. Such Prepaid Platform connects the issuer, user, distribution affiliates in real-time.
About T-GRID platform
KPC supplies the prepayment API to corporate customers with T-Grid platform.
KPC also provides all-in-one SI service from service plan to development and operation.
Benefit of T-GRID API
Minimize time and cost to develop mobile application
Corporate customers, who want to develop mobile application services such as Prepaid card,
Coupon, Stamps, Push notification services, are more likely to develop them directly through the T-Grid API platform. T-Grid API not only minimize time and cost but also maximize target marketing strategy based on the customers' data that KPC provides. Also, KPC's clients will easily get information management skills and security technologies proving
from our successful experience over the past 15 years.
Reduce Development Period and Cost

For the development of Back Office and security
infrastructure for Prepayment card system including coupon,
stamps and the mobile push notification services, our clients
can save more than 300 million won($250,000.00) for the development cost. Also, they can reduce 5 months of development period at least.

Data-driven Marketing

KPC provides data such as issuance of Prepaid card, top-up history, transaction status, and history of stamps & coupon rewards.
Our corporate clients will be able to perform Data-driven marketing strategy by using those information.              

Proven Security Technology

KPC has secured the technology for both membership information management and payment security ever
since operating the gift card services for 15 years. Also, KPC tries to perform rapid response to the revision of
related laws and mobile policies as well.

Maintenance

We are also providing maintenance and monitoring services with immediate problem solving unit, specialized
backend operation team.
We provide Total Solution for Pre-paid card
Our corporate clients can easily manage their customers' data such as Pre-paid card
Transaction, Prepayment and Customer reward. KPC also distributes and issues
Mobile coupons and gift cards based on the Total Solution.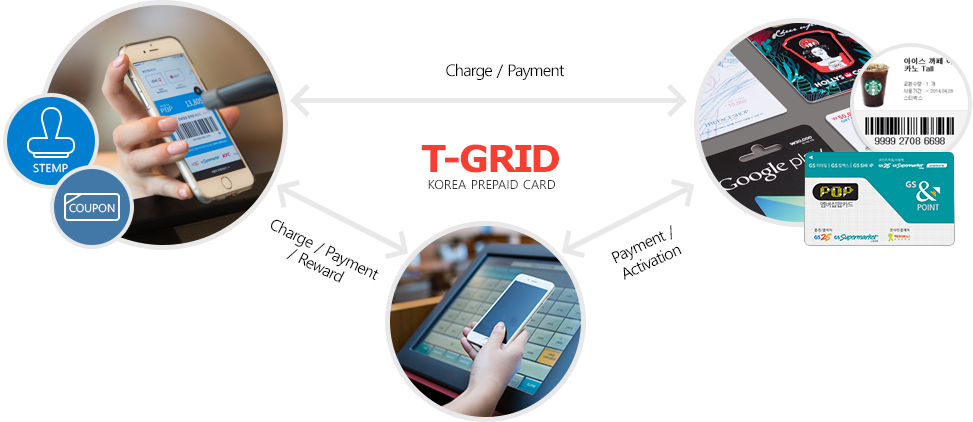 CARD/STAMP/COUPON
Management of Membership Information
Issuance, charge, payment,
deactivation, and management of Prepaid card
Management of mobile coupons and the top-up
Management of stamp rewards and usage
POS system
Scan/Settle with Bar-code reader
Reward Stamps
Handling use of Coupon
Activate gift cards
Issue cash receipt automatically
Replaces the paper receipt
Gift cards&Mobile Coupon
Issuance/Distribution of Mobile coupon
Issuance/Distribution of POSA gift cards
Issuance/Distribution of membership cards
T-GRID Reference
1. Integrated App based on T-GRID
Within T-GRID, from planning to development and operation of mobile application, IT is easily integrated.
Business partners
We are leading the pre-paid market in Korea, with the top-tier partners in the field of issuing, distributing, and redemption.
Major Partners